I recently returned from my latest springtime workshop that was held in Sicily. We based out of Palermo for three days, then Catania for another three days.
While shooting in Palermo, we took early morning and afternoon trips to Trapani, and Cefalu'. After a leisurely private motor coach ride to Catania, we spend the day relaxing and shooting around the city center. We also spent time shooting in Ortygia and Taormina.
The workshop was once again full, many who have taken my online courses with the BPSOP, and I can speak for everyone when I say that Sicily was everything we all expected. The food was always an interesting dining experience, the people were warm, friendly, and didn't mind their picture being taken; right out of central casting. The villages we shot in were all by the sea, and as picturesque as one would imagine; just like the postcards.
As usual, I select hotels that are centrally located with photo opportunities virtually right outside the door. Many were no more than a twenty minute walk. The group always traveled to the other locations by a private bus, comfort being one of my main concerns.
Each day during the critiques, I was always looking forward to seeing how people were seeing things so differently when given the same subject matter. So many of the photographers have taken one to seven other workshops with me and as a result I love observing how their eye and their ability to see rather than look at things has improved so much.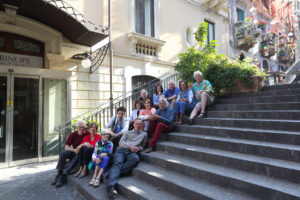 I have written several posts about my workshops, and I always like to show some of the images my fellow photographers were shooting. I realize that there are a lot of photos to look, but I've actually narrowed down the amount by half!!
I wanted to give you a visual feeling for the country as well as showing you some of the remarkable images taken by my class.
I hope you're as impressed as I am.
Enjoy the show.
Visit my website at www.joebaraban.com, and be sure to watch for my upcoming 2016-17 workshop schedule at the top of this blog. Look for me to be in Cuba next March 11th, and my next "springtime" workshop to be next May 17th in Vienna and Budapest.
Don't forget to send e a photo and question to: AskJoeB@gmail, and I'll create a video critique for you.
JoeB