I was hired by an advertising agency in New York to shoot a photograph for their client who was the New York Lottery. The campaign was called, "Hey, you never know". Since we had to shoot in the same state as the lottery, I sent a location scout out to find  a highway that would be able to fit both the stretch limo and trailer and the camera car as well. Easier said than done!!!
In fact, it wasn't happening. Because the limo was so long, and the trailer added even more, I couldn't get back far enough to get it all in the Panoramic camera I was using. Why a Panoramic you ask? Because the ad was going to be on the sides of the buses in Manhattan. This way, the art director wouldn't have to crop, making the photo a lot sharper.
If this image was to be shot in the digital age, it would be sooooo easy!!! You just shoot the limo and trailer in some large studio, or anywhere for that matter, then CGI it into the background. How much fun is that????. Maybe for the digital technician!!!
Back then it all had to be shot in the camera, so what did I do? I rented a runway at a small airport outside of the city and I sat on the camera car (panoramic camera in hand) while we both traveled down the runway at the exact same speed (at sunset) while I shot at a slow shutter speed. That way, I could blur the background. I talked the agency into painting the trailer ping and putting the dog (held up by three people) out the roof. Don't worry, we were only traveling ten miles an hour!!!@
Now that was fun!!!! Here's the setup: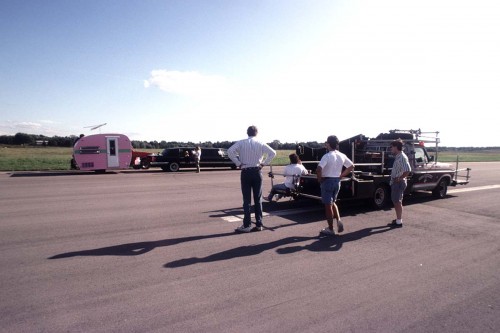 In my online class with the PPSOP, and my "Stretching Your Frame of Mind" workshop I conduct around the planet, my students work on incorporating the elements of visual design and composition into their photographs, and we also work on creating as much of it as we can in the camera.
Visit my website at: www.joebaraban.com, and check out my 2012 workshop schedule at the top of this blog. Come shoot with me sometime.
Don't forget to AskJoeB a question and send me a photo to talk about.
JoeB