Valeriano, a past student of mine sent me this photo to talk about. For a better understanding of where the photographer is coming from, and what his or her thought process was at the time, I like to copy exactly what they say when submitting. Another reason is that often is the case that others are thinking the same thing or have experienced similar situations.
Here's what Valeriano had to say:
"Hi Joe,
I've recently broken your class rule for the fish-eye lens when composing this subject. Since also at dawn the monument wasn't lit, the sky was dull gray and hazy with no clue of getting a single ray of dun at sunrise. I've also decided to break another of your class rules about white balance and set mine on Tungsten knowing I would get a bluish color cast on what wasn't lit by artificial lights. Not having any one to model for me, I had to rely on pedestrians climbing the stairs in order to give a sense of scale by having a human figure in the composition.
Please let me know your thoughts, and-as-usual-thank you a lot for your invaluable critique and advice.
Cheers,
Valeriano"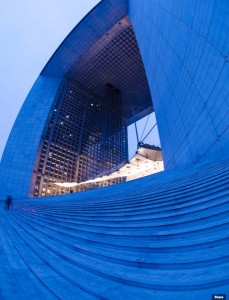 Ok Valeriano, let me first offer up a quote that was said by a very famous photographer named Ansel Adams. He said, "There are no rules for good pictures, there's just good pictures". In my online class with the PPSOP, and in my "Stretching Your Frame of Mind" workshops I conduct around the planet, I do have rules. These rules are only intended for my classes, not necessarily rules you have to live by. I have these rules because I'm a firm believer in teaching fellow photographers how to become stronger at their craft; by using their imagination not gimmicks.
To me, a good photographer doesn't need to resort to specialty/trick lens or to wash everything in a specific color. A good photographer will rely on his wit, his ability to create good photos in the camera, and a knowledge of the elements of visual design and composition that he'll get in my class. This has been my thinking for the past forty-six years and I've managed to take pretty good pictures without resorting to tricks or manipulation. I guess it's all about being comfortable in my own skin. When I go out to shoot, I'm confident I'll come back with something that will be timeless, memorable, and classic…but that's just me.
In your photo, I hope that the people that view it loves blue, because it's blue from corner to corner and edge to edge. Even the people you added for scale are blue!!! I'd be interested in seeing how it would look all yellow, or green, or even red? What I'd really like to have seen is this photo looking real. The reason is that you had all the elements to have created an interesting well composed photo that included several of the elements from my 'Artist Palette'.
For example: Shape (the triangle at the top left), Pattern (the steps), Line (the lines you have that lead the viewer in and out of your frame),  Tension (placing the people close to the edge of your frame), and Scale. In my opinion it would have been enough to carry it without turning everything blue.
As far as the Fisheye lens goes, there are definitely times when it's used, for example in aerials or to solve industry related problems, but for me those times do not include the concept of "creativity".  In my opinion, the distortion is distracting, and there's just not a place for it in the day to day world of picture taking.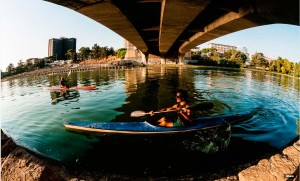 Here is another photo Valeriano shot with a Fisheye and submitted to me. For me, I think it's an interesting picture that's obviously well balanced and composed, and I'm sure that there will be people that will "ooh and aah" and there will even be people (usually friends or family) that will say…"Cool man"! If those are the people you're trying to impress, then I say go for it and don't take that lens off.
Again, that's just one opinion, and now I want to leave you with this last thought, "If you have a hammer in your hand and everything looks like a nail, then you have a problem".
As usual, thanks for sharing your photo and thoughts.
Visit my website at: www.joebaraban.com and check out my 2013 workshop schedule at the top of this blog. Come shoot with me sometime, but please…leave the Fisheye at home.
Don't forget to send me a photo and question to: AskJoeB@gmail.com
JoeB