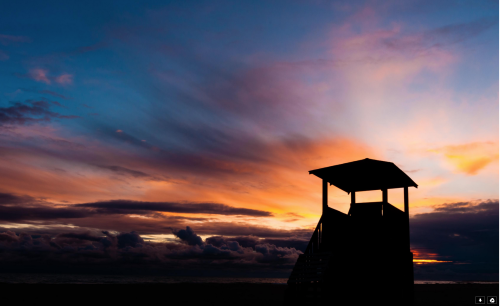 I've had Valeriano submit a photo for me to talk about. As usual, I like to let my readers see what the people say, because sometimes people have been in similar situations or have had similar questions. Here's what he had to say:
"Hello Joe,
I'd like your critique on this photo. I think I've picked up the wrong subject to be rendered in silhouette. Lacking an interesting shape from any angle I was framing it against the sun setting, I've finally come up with this photo. It's a lifeguard turret, and since it is in very bad conditions (lot of crap and clutter added to its stairs so people won't climb on it) I opted for a silhouette photo.
Regards,
Valeriano."
Ok, first of all to those that might not know what is meant by a silhouette, a silhouette is an outline of something or someone against a lighter background. Typically, you want it to be dark to begin with. I love silhouettes, they are the perfect idea to think about before the sun comes up (dawn) and after the sun goes down (dusk).<
In my online class with the BPSOP, one of the lessons in my part II class is on the silhouette. My class spends an entire week shooting them because they provide so much visual interest and tension…One of the ways to create visual tension is the use of light and another is contrast. We also work on them in my "Stretching Your Frame of Mind" workshops that I conduct around our planet.
Valeriano, take a look at this video: http://www.screencast.com/t/tZgoIrznGv2l
I hope this helps.
Visit my website at: www.joebaraban.com and be sure to watch for my 2016 workshop schedule at the top of this blog. Come shoot with me sometime.
Keep sending in your photos and questions to: AskJoeB@gmail.com and I'll create a video for you.
JoeB