In my online class with the PPSOP, and in my "Stretching Your Frame of Mind" Workshops, We spend a lot of time on color, since it's one of the elements on my 'Artist Palette' and so important in taking our photography what I refer to as "Up a Notch". Color is a stimulant for our eyes, and ties the elements of a photograph together. Color affects every moment of our lives, and has an enormous impact on our photography.
Coming from a background in color theory, painting and design, I have over the years trained my eye to look for color, and it often requires looking past your initial impression. Since my background is also in Journalism (as in a BA) I love to write and tell stories. Now, my medium is photography, so I use color as my way of communicating my ideas.
Nothing can help a photographer more than when he's forced to shoot in bad light or just wants to venture out on a snowy day. Paul, a recent student with me at the PPSOP went out during our class with his 'Artist Palette' (always in the back of his mind) and found this amazing location.  Since we had started working on Vanishing Points and Directional lines, and how they can add depth to our imagery, he had hit the photo jackpot!!!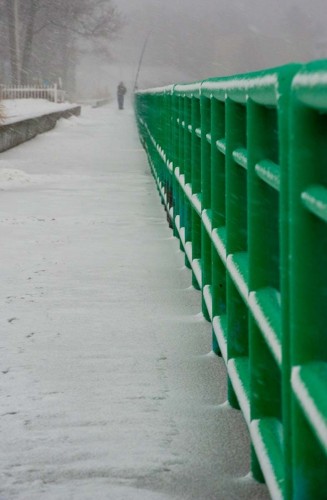 I can assure you that very few photographers would compose this photo so that the green railing would form a Vanishing Point and lead the viewer down the road to the man perfectly framed at the end. Also Paul," seeing past first impressions", knew that the green would have an enormous effect on his composition while communicating an idea.
Paul has also done a great job in using one of the concepts in the theory of Gestalt I teach called Continuance.
I would have no problem telling people that I had shot this photograph…BRAVO!!!
Visit my website at: www.joebaraban.com and check out my 2012 workshop schedule. Come shoot Vanishing Points with me sometime.
Don't forget to send me a photo and a question to: AskJoeB@gmail.com. Be sure to size it to the specs provided above when you click on the tab.
JoeB