Most of you have heard this expression that's been around for a long time. Yogi Berra, the Hall of Fame catcher for the NY Yankees made it famous; that is if you follow baseball. Yogi said, "It ain't over til it's over". I know I've said it myself hundreds of times during my nearly fifty year career as an advertising, editorial, and corporate photographer…Why you ask?
Well it's all about the weather, and why it's so important in your coming back with a good photo or not..or a photo at all. I teach an online class with the BPSOP, and I conduct my "Stretching Your Frame of Mind" workshops around our planet, and I'm constantly hearing the sad cries and complaints from my fellow photographers that say that the reason they didn't go out shooting was because the weather was forecasted to be bad; or they went home because it got bad.
Well just think about the mailman's motto that says, " Neither snow nor rain nor heat nor gloom of night stays these couriers from the swift completion of their appointed rounds." Actually, this really isn't their real motto, it's written on New York's James Farley Post Office, and has no official status.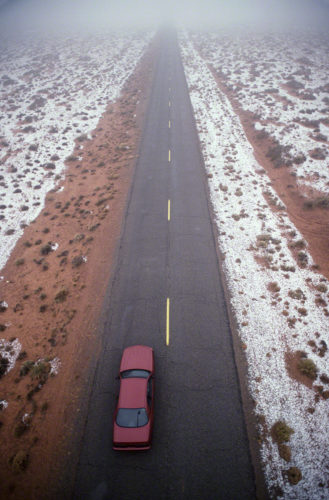 If I had a nickel for every time it was raining when we were about to go out and shoot for a client and it cleared just at the right time, I would be writing this post from my private island; a blue and frothy drink with an umbrella hanging on one side in my hand…typing with the other
Don't listen to any weather reports the night before, or even when you wake up. If you have a destination in mind don't start worrying until you get there; don't even look up at the sky!
In the above photo for Ford, when we woke up the sky was very dark and very gray. As always, I decided to go and set up anyway just in case. Sure enough just as the sun was about to set it came out behind me and created a look I couldn't have prayed for; and this is the actual way it looked since it was shot before the days of computers.
In the photo taken by one of my online students, the weather started out gloomy and went downhill from there. Still, because she was using her "Artist Palette", she walked away with this image; taken late in the afternoon in a snowstorm.
So remember what I say, it's never over until it's over…as in the dark.
Visit my website at: www.joebaraban.com, and check out my workshop schedule at the top of this blog. Come shoot with me sometime. On July 30th I begin my 29th year at the Maine Media Workshops. I've had the same week since the beginning. It's the week of the Lobster Festival down the road in Rockland. It offers a completely different set of photo ops than one would expect when coming to photograph the coastline, lighthouses, and fishing villages of Maine. Come join me and spend a week completely immersed in your love for photography.
Keep sending in photos and questions to: AskJoeB@gmail.com, and I'll create a video critique for you.
JoeB