I just returned a couple of weeks ago from my 27th year at the Maine Media Workshop. As in most of the time I talk to either my online students with the BPSOP, or those in my personal "Stretching Your Frame of Mind", the challenge, at least for me, is to create as much as I can in the camera and not always rely on post processing.
It's sometimes amazes me how lazy my fellow photographers can be when it comes to their own approach to taking pictures. It's unfortunate that the majority of the photographers I teach got started in photography during the digital revolution. The revolution that condones the use of computers to create their photos; even sadder is the fact that these same photographers think that computers and cameras go hand in hand.
When it comes to post processing, I'm far from being a purist. I use Photoshop on just about every photo I take to some degree. However, I try to get it "in the camera" first, before I sit down in front of a computer.
The above photo was taken for Rubbermaid to be used in their new upcoming catalog. I had two truckloads of their new outdoor line called "Sundial" follow me up and down the coast of California. As long as I shot everything outdoors, I had 'free rein' as far as what I wanted to do. Some ideas were simple, and some were more complicated with a lot longer set-up time.
My idea was to dress these models up in vintage clothing and create an impressionistic look. We shot on the patio of the Nepenthe Restaurant in Big Sur; a great place to eat with a fabulous view.
Since any chance of soft late evening light was lost because of the mountains, we had to shoot much earlier when the light was going to be bright and harsh. when I was shooting I would often bring along my 20X20 silk so I could soften the light when I had to; and I had to since those were the days when the name Adobe was synonymous with a type of house in the Southwest part of the country. Nowadays you could create this in the computer, but what fun would that be?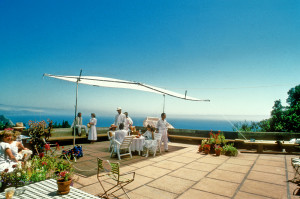 Visit my website at: www.joebaraban.com and watch for my 2016 workshop schedule at the top of this blog. Come shoot with me sometime. My new "springtime" workshop is now posted on my blog. This time it's in Sicily, so for those that's always had this wonderful country on your bucket list now would be a good time to see and photograph it.
The end of July marks my twenty-eight year at the Maine Media workshops. It's a wonderful way to immerse yourself for a week and think about nothing but photography. It's the same week as the Lobster Festival down the road in Rockland, and offers a completely different set of photo ops than the beautiful Maine coastline, amazing lighthouses, and quaint fishing villages. The full description is at the top of this blog.
I have added a new workshop to my 2016 schedule. On September 21st, ten photographers will get together with me at my evening "meet and greet" to begin a fantastic five-day workshop in New York, New York. Check out my description at the top of this blog. Come shoot with me.
Keep those photos and questions coming it to: AskJoeB@gmail.com, and I'll create a video critique for you.
JoeB