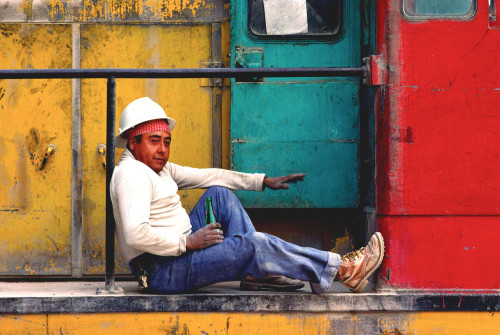 Over the years, I've had countless people from the way to young to the not that old ( me for example) ask me what photography classes should they be taking; they say this for several reasons: One being that they've run out of ideas since they've taken so many. Or, they've become bored with the same old, same old approach to learning new things and digital cameras are above their pay grade. I've even been told that they like the instructor and therefore didn't get anything out of the class, and finally, they've learned all there is to know about Photography!!!!!!!!!!!
I also run into similar questions in my online class with the PPSOP, and in my "Stretching Your Frame of Mind" workshops I conduct around the planet. Well, I always have the same answer…don't take photography courses, take art classes.
A brief synopsis of my background will revel that I've never taken a photography class, nor have I ever study under or assisted another photographer. It wasn't because I thought I was too good for all that, it was because I just didn't know you could!!! When I went to college (1964-1969) the only photography classes that anyone could take were in the Journalism Department and were described as photo-journalism. Photography was not really considered a form of art. A camera was something you used to take pictures, and a brush or pencil was something you used to paint or draw pictures…and never the twain should/would meet.
However, in my opinion I did something far better than taking  photography classes. I took art classes.
From the time I was ten I was into art, in any form. I was allowed to take two art classes in high school, and I studied at the Kansas City Art Institute. I took art classes all through college and settled with a degree in journalism. I took classes in: design, composition, illustration, figure drawing, water color, oil painting, print making, color theory, and Art History, and I'm sure I've left out a few. I didn't pick up a camera until I was twenty-one, and the moment I did and looked through the viewfinder, it was love at first sight; from that moment on it was instant-gratification. I didn't have to spend days or even weeks painting a picture.  The best part was that I still considered myself an artist, I just changed the medium from a canvas on an easel to a camera on a tripod.
it was a natural progression in that I simply applied everything I had learned in all my art classes to photography. All the elements of Visual Design I had studied over the years were still applicable.
So now, when I'm asked what photo classes to take, I always tell people to take art classes instead. Put your camera away and pick up a colored pencil. Sign up for Design 1 or composition 1 at you local school, and see where it leads.
Visit my website at: www.joebaraban.com and check out my 2013 workshop schedule at the top of this blog. Come shoot with me sometime.
Don't forget to send me a photo and question to: AskJoeB@gmail.com.
JoeB