One of my all time favorite 'Pearls' that I constantly refer to in my online class with the PPSOP, and in my "Stretching Your Frame of Mind" workshop I conduct around the planet, is called my "Fifteen Point Protection Plan". I want to introduce you to it because it could be the most important tool you'll have in your 'camera bag'.
I can't remember when I came up with this tool, but I'm guessing over thirty years ago, and I have done well by it.
Imagine a clear piece of acetate in your viewfinder with fifteen evenly spaced (imaginary) black dots on it. After I've decided what my final photo is going to be, and it's framed in my viewfinder, I look at each of the black imaginary dots and the area around them. Remember that these dots cover the frame, so I look all the way from the dot to the edges of the frame they're next to.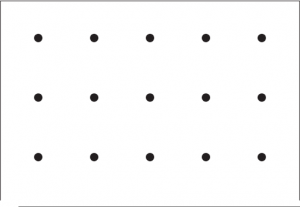 What that does is it helps me check to make sure everything in the photo I'm about to take is the way I want it. I don't want to be surprised when I get back to the studio and wonder why I didn't notice the tree growing out of someone's head, or why I cropped out something important…or put in something not so important.
Give it a try. Once this becomes second nature to you and a permanent part of your thought process, I can guarantee you that your imagery will go "up a notch".
Here's the diagram placed over a photograph: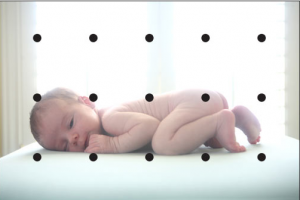 Check out my workshop description at www.joebaraban.com, and come shoot with me sometime.
JoeB