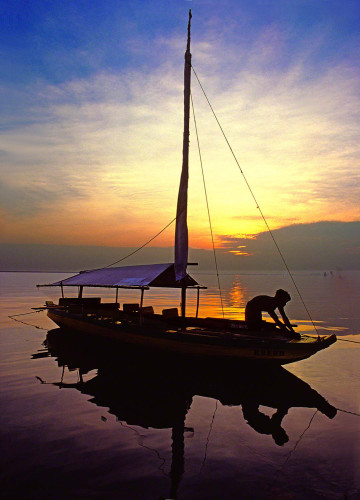 Whenever I write one of these posts it takes me back to the days when I was traveling two hundred twenty-five days out of the year, and loving it. I was fortunate enough to hook up with some of the very best graphic designers in the country if not the world, and a whole lot of them were working in Texas; Houston, Dallas, and Austin to be exact.
Working with graphic designers in corporate photography was very different that working with Art Directors in advertising in that with corporate work you had more freedom to shoot what you wanted, and in advertising you usually had to follow a layout…or at least high-comped sketch of what the client expected you to come back with.
I was hired by s designer, that in turn was hired by an oil company in London to travel throughout Asia documenting the countries that they were either doing work for or about to. I was allowed to shoot anything I wanted as long as it represented the country in a positive way.
We were in the Philippines for several days with one of their employees as our guide and interpreter and one sunrise we found ourselves at a place somewhere in Manila Bay. It was a gray day and I was about to call it a morning when we saw this small boat anchored  on the shore. The sky was opening up a little so I thought I would shoot the boat against what I was hoping for something dramatic to happen in the sky.
As I tell my online students with the BPSOP, and in my "Stretching Your Frame of Mind" workshops I conduct around the planet that Eddie Adams ( a well known Pulitzer prize winning photographer) once said, "When you get lucky, be ready". As is usually the case, sunrise shooting is very quiet since there's no one around that time of morning, and especially when you're far away from the cacophony of morning sounds given off from a large city.
I was beginning to compose my photo, when all of a sudden a teenage boy jumped up from inside the boat and proceeded to scare the morning daylights out of us, while at the same time those same daylights had been scared out of him.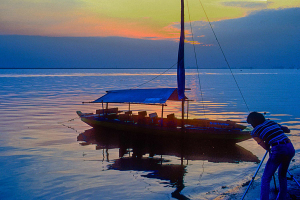 With the help of an idea, I quickly ( as in losing the light) regained my composure and had our guide ask him if he would pose for me. I had the young boy trade places with me (it's a great way to show your subject what you want him to do). As I started to shoot the silhouette of the boy, the sun was rising creating this wonderful sky.
I got the shot (without any post processing) and gave the boy a five dollar bill for his time. He looked at it, smiled, then laid back down in the bottom of the boat and went back to sleep. As we were leaving, our guide told us that the five dollars we gave him was more than he made in a month. Wow, talk about making someone's day…or month.
Visit my website at: www.joebaraban.com, and check out my 2105 workshop schedule at the top of this blog. come shoot with me sometime. I still have a few spots in my next "Springtime" workshop to be in Lisbon, Portugal next May 21st.  July 26th will be my 27th year at the Maine Media Workshop…the granddaddy of them all. I've always picked this week as it's the week of the Lobster Festival down the road in Rockland. It offers a completely different set of photo ops: color, motion, people, energy, light, and design. A great way to break up photos of the beautiful coastline, fishing villages and lighthouses that Maine is known for.
Keep those photos and questions coming into: AskJoeB@gmail.com, and I'll send you a video critique.
JoeB