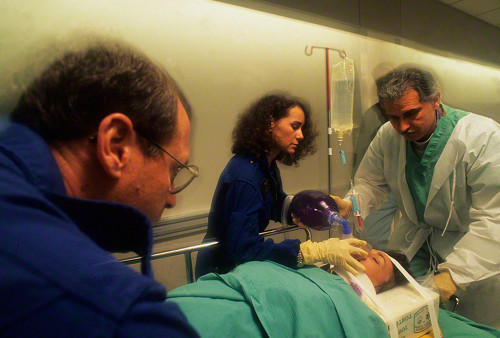 Hello to all new to my blog. My name for those that don't know it is Joe Baraban, and I shot advertising, corporate, and editorial photography for forty-eight years. I know teach my "Stretching Your Frame of Mind" workshops all over our planet, and I also teach online with the BPSOP.
Over these past forty-eight years there's been funny incidents that have happened along the way, and I find myself reminiscing when it comes to some of these stories. Some were funny then and still funny and some were amusing at best but now seem funny…due mostly to time and my age!
I was shooting a brochure for Seton Hospital in Austin, Texas and on the shot list was their emergency room facilities; which they were both proud of and well known for.
My idea was to create something that was common among emergency rooms and make it look as though it was happening in real time. I also wanted some action to make it even more believable. Easier said than done as I would soon find out.
The answer came to me as I was standing in the hallway next to the emergency room doors to the outside. An ambulance pulled up to deliver a patient that wasn't really sick. She had just been transferred from one hospital to Seton. Still, it gave me the idea that wound up working out pretty good.
In the above photo, I was on a gurney next to the one you see, and moving down the corridor at the same rate of speed. I used a sync delay that fired the strobe right before the shutter closed instead of the strobe going off right after the shutter opened. This is what gives it that blurred but sharp look. To re-create a real situation, I had some of the hospital staff playing the role of the actual emergency team.
The woman laying on the gurney and in obvious distress was a volunteer, and the only one around that was available. We did several rehearsals, and each time the woman started laughing. For some reason she thought it was the funniest thing she has ever taken part in, and couldn't stop. Had there been anyone else around I would have replaced her because she thought it was a lot funnier than I did!!
So one of the male ambulance drivers pulled me over to the side and made a suggestion….a really good one. The portable oxygen mask was brought out and placed over her face to hide her laughter. It worked like a charm. Sometimes you gotta do what you gotta do, and the show must go on.
Visit my website at: www.joebaraban.com and watch for my 2016 workshop schedule at the top of this blog. Come shoot with me sometime. My new "springtime" workshop is now posted on my blog. This time it's in Sicily, so for those that's always had this wonderful country on your bucket list now would be a good time to see and photograph it.
The end of July marks my twenty-eight year at the Maine Media workshops. It's a wonderful way to immerse yourself for a week and think about nothing but photography. It's the same week as the Lobster Festival down the road in Rockland, and offers a completely different set of photo ops than the beautiful Maine coastline, amazing lighthouses, and quaint fishing villages. The full description is at the top of this blog.
I have added a new workshop to my 2016 schedule. On September 21st, ten photographers will get together with me at my evening "meet and greet" to begin a fantastic five-day workshop in New York, New York. Check out my description at the top of this blog. Come shoot with me.
Keep those photos and questions coming it to: AskJoeB@gmail.com, and I'll create a video critique for you.
JoeB