I was sent to Egypt to photograph the country and it's people by Oil Tools Limited, a company based in London. The company was going to partner up with the Egyptian government to begin drilling in the coming year; I had pretty much a free hand which made it all the sweeter.
Whether it was the country, the people, or the historical monuments, the company really didn't care as long as they had enough of each to use for the next couple of years. In those days we called these kinds of assignments Plums.
Early one morning I went out with a group of Egyptians to take their portraits…my transportation? A stubborn, uncomfortable, smelly camel. It didn't take long for my new friends to figure out that I wasn't keen on the idea of spending several hours trekking across a very hot desert that even Moses wouldn't have willingly done; especially when he had to do it for forty years!!!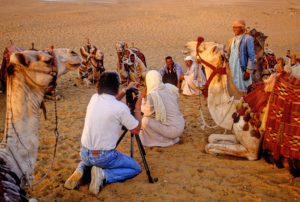 Getting to the locations wasn't too bad, at least it was cool since the sun had not come up. I had a real band of comedians that laughed at everything, and would not give each other one second of peace as I was photographing each of them; In the photo above the model kept turning away from the camera.
Finally I told everyone that if they would give me just a few seconds with him I would jump on my camel and shoot while riding…they did so I did!!!!
FYI, the shift in color of me on the camel is what happens when the sun had been up for twenty minutes.
Visit my website at: www.joebaraban.com, and check out my 2017 workshop schedule at the top of this blog. Sign up for one of my "Stretching Your Frame of Mind" workshops I conduct around the planet, and come shoot with me sometime…but not on a camel.
Sign up for my online class with the BPSOP, and I'll show you how to incorporate the elements of visual design into your imagery.
Send me your photo and question to: AskJoeB@gmail.com, and I'll create a video critique for you.
JoeB